Life's Abundance Food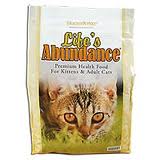 I have experimented with several brands, but I have found that Life's Abundance produces the best results in my cats. They grow a shiny, healthy thick coat and my females have big healthy babies. I would highly recommend that you choose this food for your pet, the quality and nutritional value is unmatched.
For your kitten to have a long, healthy life it is important to feed them a premium brand. This is the only food on the market with 100% organic human grade meat. There are no fillers, colors or additives.